This shop has been compensated by Collective Bias, Inc. and its advertiser. All opinions are mine alone. #PeriodConfidence #TryTheDivaCup #CollectiveBias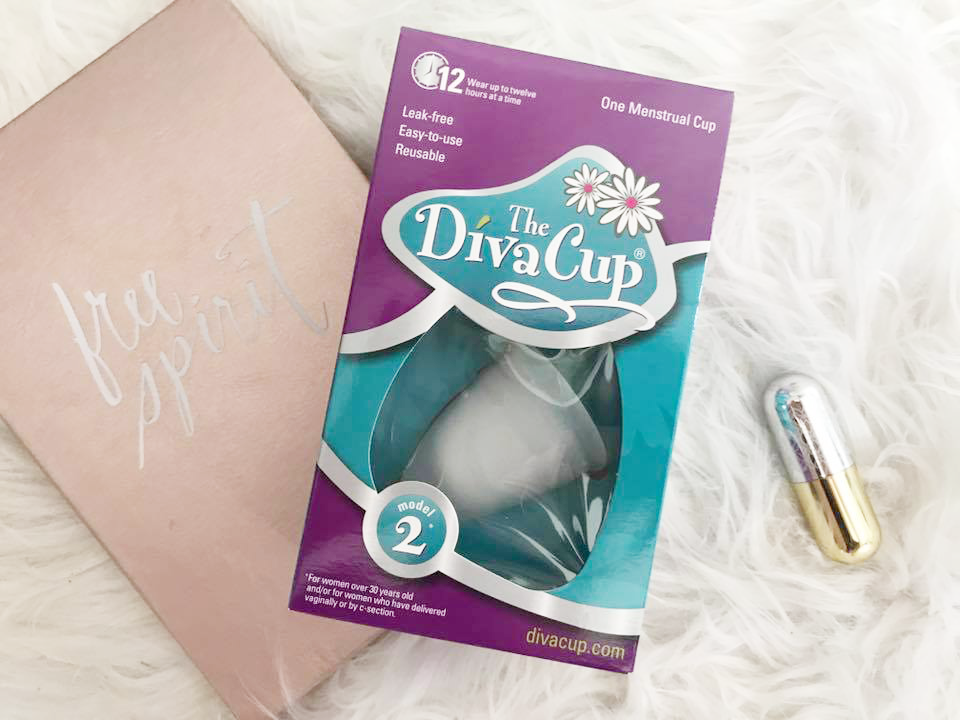 Interested in trying DivaCup? Hover over the photo above to click through to Target.com and buy them!

That time of the month, it's something most of us dread, no one actually wants to have to go through that every. single. month.  Although we can't really control it or stop it, we can at least make it easier on ourselves right?  When I was a teenager I had the worst menstrual cramps, I would have to take the day of school it was so bad, luckily it's gotten better over the years and I don't really get cramps anymore but it's still a time of the month I just don't want to deal with, especially if I'm travelling, want to work out or want to wear white!
I recently just found out about a product called The DivaCup, I've heard of menstrual cups before but had never actually tried one out for myself so of course I had to jump on the band wagon and see what all of the fuss was about! I've had an amazing experience with The DivaCup and it's made that time of the month that little bit less stressful for me.
Here are 5 Reasons why The DivaCup makes that time of the month less stressful!
1. Less Waste
Before trying out The DivaCup I used regular sanitary products, tampons etc.  One of the things that I don't like about regular sanitary products is all the waste, the wrappers and where to put the used products when they are used, especially when you're in a public bathroom.  The DivaCup only has the packaging it comes in and since it can be reused there is literally no more waste after the initial packaging is thrown out and it also comes with the cutest little bag to store it in.
2. Takes Up Less Space
There is nothing worse than having to carry around a bunch of sanitary products in your purse, no matter how big or small it is, no one wants to do it and usually they're not very discreet. The DivaCup is only one product and the only product that you will need to take with you and it comes in that pretty little bag too, no one will have any idea what's in it!
3. Lasts Up to 12 Hours
You can have The DivaCup inserted for up to 12 hours which means you're not constantly having to change sanitary products and in the long run it will save you a ton of money!
4. Less Messy
When you're out and about you don't want to be constantly dealing with having to change your tampon or other sanitary product.  We all know things can get messy and because The DivaCup can be worn for up to 12 hours, you more than likely won't have to worry about messing with it for a while after you've put it in.  The average mobthly flow is between 1 – 2ox an The DivaCup holds up to one ounce!
5. No Chemicals
The DivaCup Uses healthcare grade silicone which is better for your vaginal health than the surfactants, adhesives, and additives they use in tampons and pads.  It also won't leave your lady parts feeling dried out and won't leave residue like tampons tend to do.
The DivaCup Model 2 is recommended for women age 30 and over, or for women who have delivered vaginally or by caesarean section. I picked up my DivaCup at Target in the womens sanitary section! You might also be wondering how to clean The DivaCup, well that's easy, just use DivaWash and warm water.  DivaWash can even be used on your face and body, it's botanically-based and all natural designed to protect silicone material and your body.
If you want to make that time of the month less stressful, definately try out The DivaCup, I know there are lots of ways to indulge and make that time of the month easier but this is one step further and you'll save money. Wondering how The DivaCup works? Click Here to see the user guide.
Click Here to learn more about The DivaCup and Click Here to find a store near you!
Stay Up to Date with The DivaCup